Tickets
This page lists all upcoming Plano Stages-produced shows that have tickets on sale. For a full listing of upcoming shows at our venues, please check out our other page for all
Events & Shows
.
Thursday, June 1 - 7:30pm
Courtyard Texas Music Series 2017
The Quebe Sister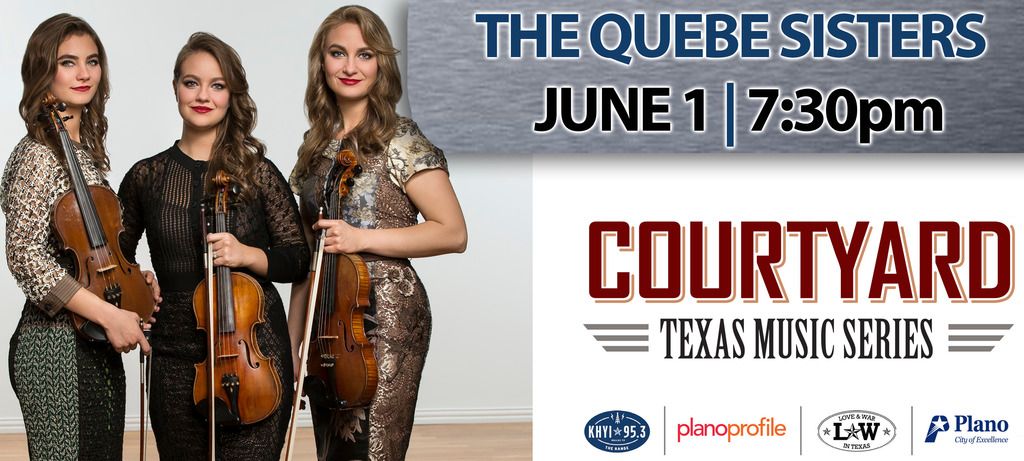 When the Quebe Sisters from Texas take a stage, and the triple-threat fiddle champions start playing and singing in multi-part close harmony, audiences are usually transfixed, then blown away. It's partly because the trio's vocal and instrumental performances are authentic all-Americana, all the time respectful of the artists that inspired them the most. And whether the Quebes (rhymes with "maybe") are decked out in denims and boots or fashionably dressed to the nines in makeup, skirts and heels, the fresh-faced, clean-cut sisters, all in their 20s, look as good as they sound.
After more than a decade of travelling the U.S. and the world and recording three acclaimed albums, Grace, Sophia and Hulda Quebe are pros in a variety of genres and count many famous musicians among their biggest boosters. The Quebes' unbridled passion for American music, along with their talent, skills, and a lot of hard work, has taken them far beyond their wildest early aspirations. "One thing is for sure, you don't see a group like the Quebe Sisters come along every day," famed Opry announcer Eddie Stubbs told listeners on his own show on Nashville's WSM. "Give them your undivided attention, and if you're not already, you too, will become a fan."
Reserved Seating Only
$25



Saturday, June 3 - 7:00pm

Plano Stages is excited to announce this year's annual Beatles Night at the beautiful Amphitheater at Oak Point Park! Beatles Night 2017 will feature A Hard Night's Day as the headliner, with Revolution 9 opening.

A Hard Night's Day is one of the best known Beatles cover band in the North Texas Area. Beatles fans will appreciate that A Hard Night's Day has played at the Cavern Club, the Kaiserkeller in Hamburg, and recorded in Abbey Road Studios in Studio 2. This makes them a bona fide "tribute" band with clout. With a catalog of over 200 songs, they are able to give an in-depth, genuine Beatles experience.

The Revolution 9 stage show has been meticulously crafted to bring the music of the '60s to the public in a new, refreshing way. The songs… from the very beginnings of Beatlemania and the Mod movement in swinging London to the psychedelic sounds of San Francisco… have been carefully chosen to give audiences their well-known favorites as well as lesser-known gems that shine with brilliance on the live stage.

Kids 5 & under are free. Picnic baskets, coolers, blankets, and/or lawn chairs are welcome and encouraged. No pets please!

Gates into the amphitheater will open at 6:00pm. Box office for on-site sales will open at 5:00pm.

General Admission
Adults: $15
Seniors (60+): $12
Children (12 & Under): $10
Kids 5 & Under are Free

Saturday, September 16 - 7:30pm
Arrested Development & Tone Loc

Tone-Loc soared from obscurity into pop stardom in 1989 when his hoarse voice and unmistakable delivery made the song "Wild Thing" a massive hit. The song was co-written by Marvin Young, better known as Young MC, as was the second single smash, "Funky Cold Medina." The album Loc-ed After Dark became the second rap release ever to top the pop charts.

Arrested Development are true trailblazers within hip-hop music. Since 1991, they've championed colorful sounds, while spreading a unique mixture of consciousness and musicality around the globe. Awarded as one of the greatest hip-hop artists of all time by VH-1, recipients of 2 MTV Awards, and if that wasn't enough, their song Tennessee which was voted one of the 500 Songs That Shaped Rock and Roll by the Rock and Roll Hall of Fame! Arrested Development's hit song "Mr. Wendal" brought much needed attention to the plight of the homeless and the group gave half of that singles royalties to the National Coalition of the Homeless. Their dance smash, "People Everyday" addresses the tension between ignorance & consciousness, while paying homage to Sly & the Family Stone.

Food and beverage will be available for purchase on site.